"Shirts"
2021
Various button-up shirts, fabric, embroidery thread, thread, batting
67 x 62 inches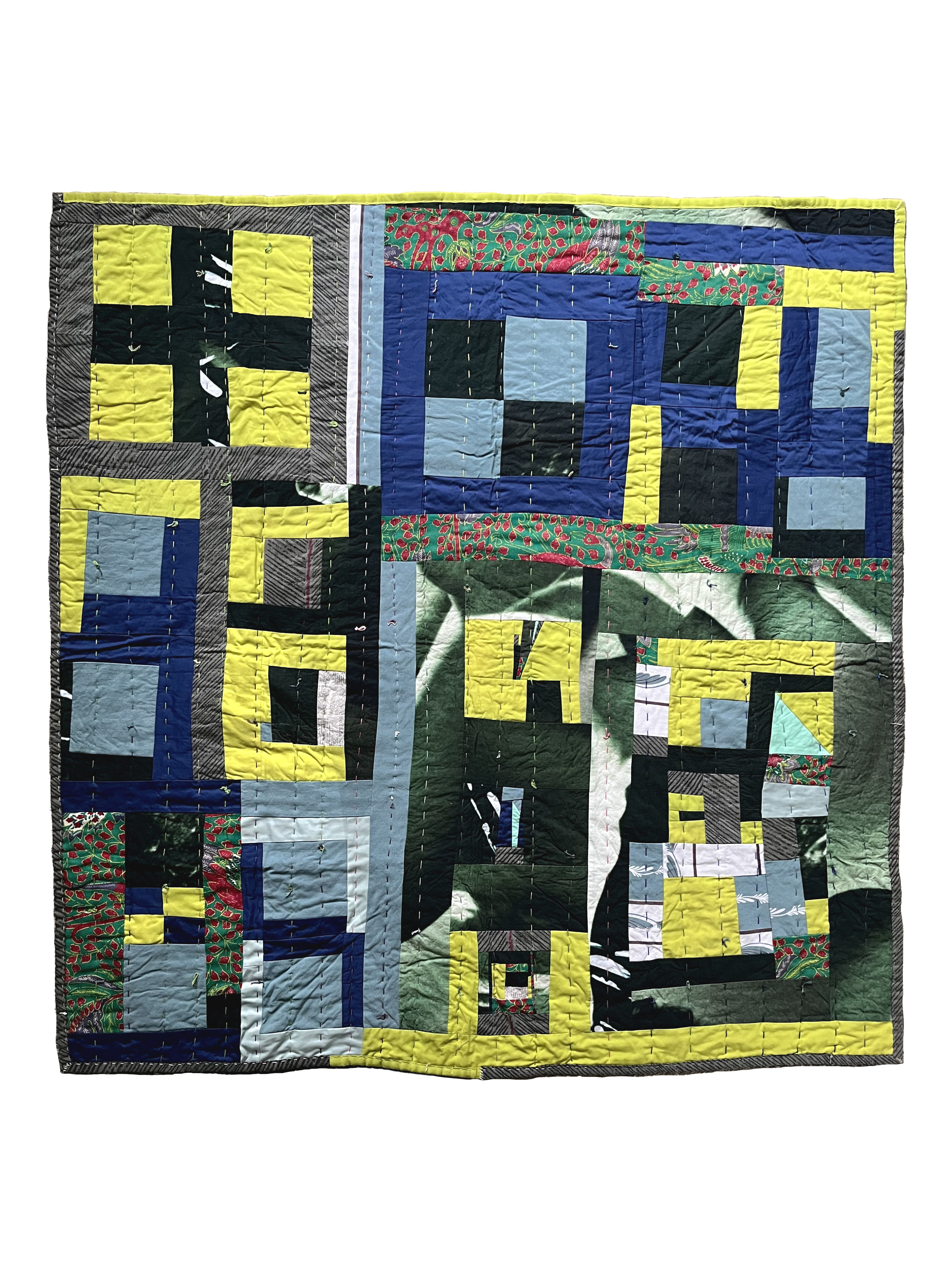 "Lactating L's"

Old sheets, family tablecloths, fabric from the room I slept in at my grandparents', repurposed work I made in grad school, silk, quilting cotton, embroidery thread, thread, batting
49.5 x 48.5 inches

"I Found a New Space Inside the Pain"
2023
Hospital gowns, baby blanket, hospital baby shirt, thread, fabric, batting
35 in x 30 inches


Netted Seas: work by Zoë Frederick & Caroline McAuliffe surveys a landscape of the ocean as woman and creator, forming alien artifacts. Departing from the romanticized histories of seafarers and women's labor, Netted Seas assembles a collection of masks, weavings, and curiosities that piece together a new truth.

Bringing together the work of Caroline McAuliffe and Zoë Frederick, the exhibition is rooted in the archaic traditions of the sea, mythmaking, and a fascination with scavenged materials. It is a story of industry, power, and materiality. The work of McAuliffe and Frederick, connected through commonalities of material and process, solidifies and expands into an ongoing story; one that focuses on the devotional weaving of Penelope, Circe, and Helen instead of the hubris of Odysseus.

The gallery is activated by an installation of artifacts, tokens, and tracings unearthed from the sea. In the storefront window, the artists have built a collaborative altar, a space that honors the sea and her powers. Programming during the exhibition's duration includes an open crafting circle, a beginner's weaving workshop, and a Halloween masquerade.


SVA MFA Fine Arts is one of 30 New York-based organizations who will host free seasonal programs and exhibitions on Governors Island as part of its calendar of arts and cultural programs for 2019. Presented in a historic former military home on Colonels Row, "Life on an Island" will host three cycles of SVA programming.

The third of the three cycles will be "S.O.S.," a group exhibition featuring work by eight MFA Fine Arts alumni and one artist collective, curated by Alison Kuo. Featured artists include Kaja Andersen (2016), BombPop!Up, Zoë Frederick (2017), Owen Keogh (2019), Georgia Lale (2016), DS LEE (2013), Hee Sun Shin (2015), Roberto Vega (2018) and Regina Viqueira (2018).

Exploring the concept of "Life on an Island," the MFA Fine Arts-hosted exhibitions will engage the diverse body of SVA's alumni, current students, faculty, invited artists and partner arts organizations to exhibit work relating to the theme through a series of short residencies. Islands exist as multitudes. We are interested in engaging artists with the conceptual idea of 'Life on an Island' with its multiplicity of meanings. We are equally as interested in physical geography as we are in the conceptual and metaphoric associations: islands as isolated, islands as tropical paradise, rugged survivalism of castaways, colonialism, rising sea levels, island gigantism, etc. But perhaps, we are most interested in islands as metaphors for contemporary art world(s).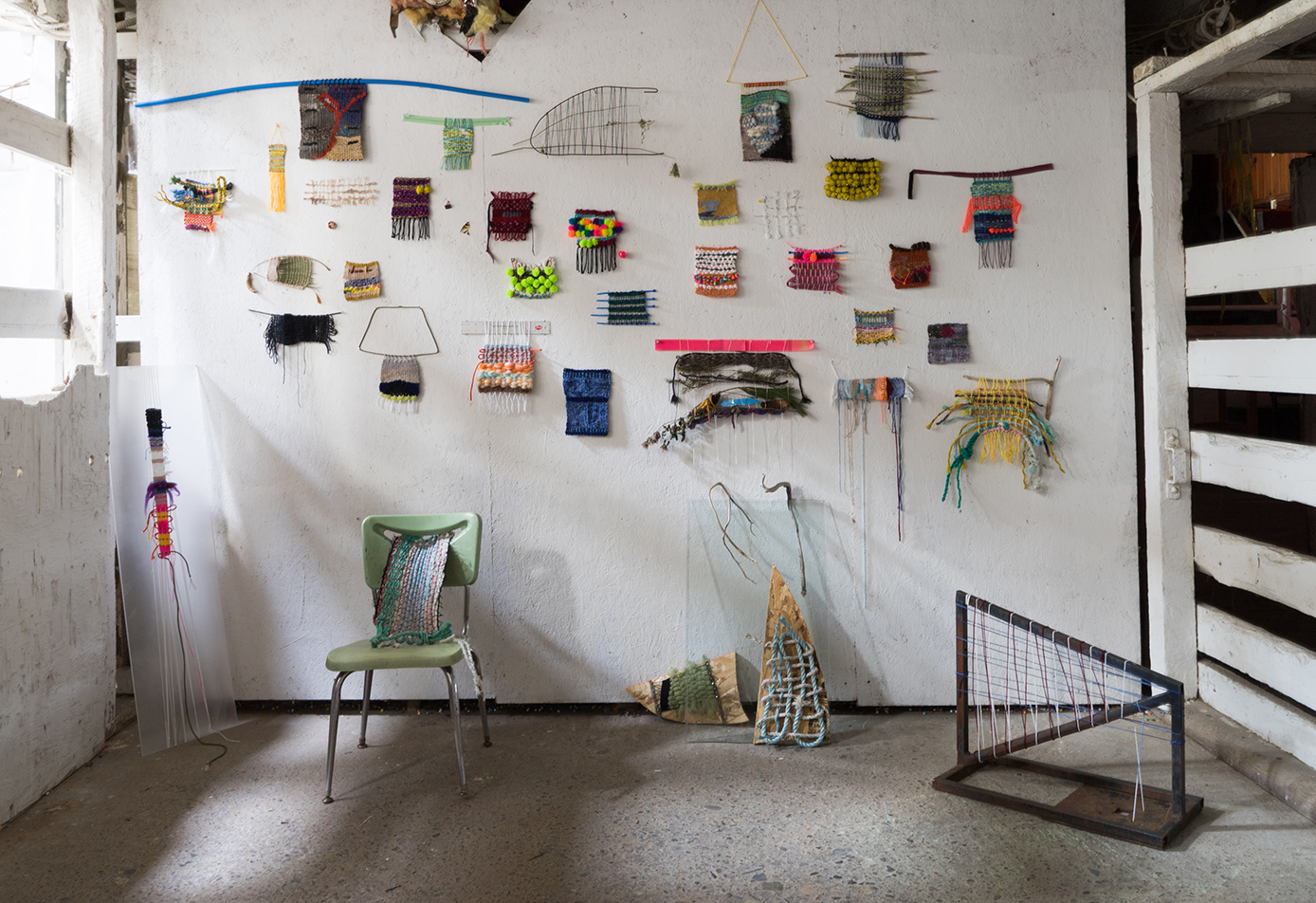 "Daybook" is a textile journal, recording life slowly, into a sampler of memories. Some hang on the wall like necklaces or lounge on a chair, a record of decisions made, both artistically and physically. Intimate objects, they evoke the storytelling history of textiles. This body of work is another avenue to explore feminized emotion and handicrafts. The process of over under over under sometimes feels like a translation of the monotony of living and then it is interrupted by an oversized paper clip or a bird's feather, the same way a daily walk to the subway can be shifted by the full moon's rising.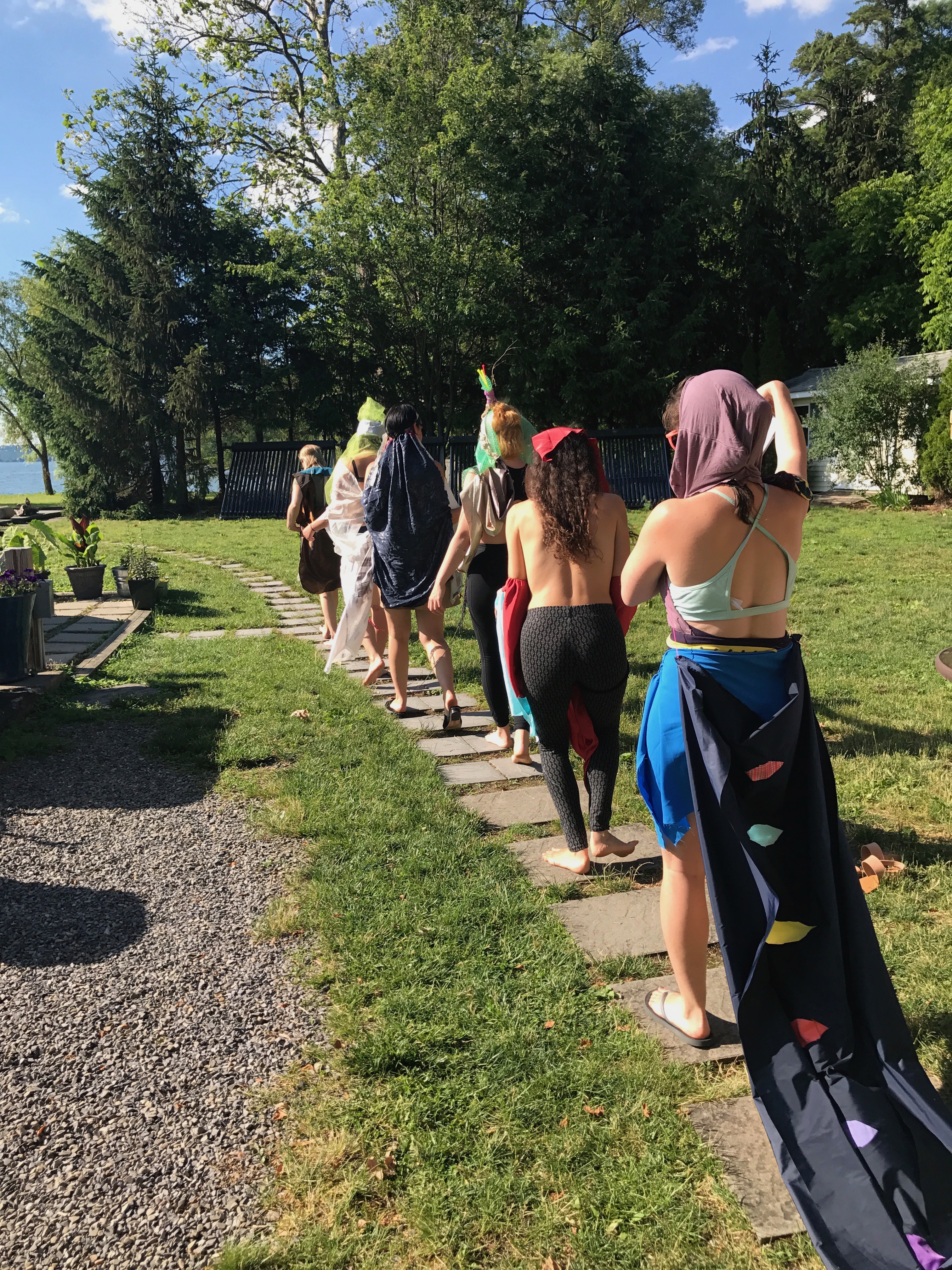 The main concept of this workshop centered around turning cloth into costume. The focus was more on the experience of turning raw material into something participants could wear and move in, not on creating a flawless object. The hope was to involve some level of unschooling or shifting expectations. The making culminated in a freewheeling movement session and an unplanned swim for some.We looked at the historical purposes of costume, artistic uses of costume (especially in performance), and contemporary examples of costume (i.e. broadening/widening the definition of costume to include uniforms, daily modes of dress, etc.). Examples included the work of Rei Kawakubo (Commes des Garcons), Louise Bourgeois, Frida Kahlo, Susan Ciancolo, K8 Hardy, and Helio Oitica as well as Zina Saro-Wiwa's photographs of the men of the Ogele dressed for their masquerades.

Taught as part of the Dreamland workshop series in Ithaca, NY, June 2017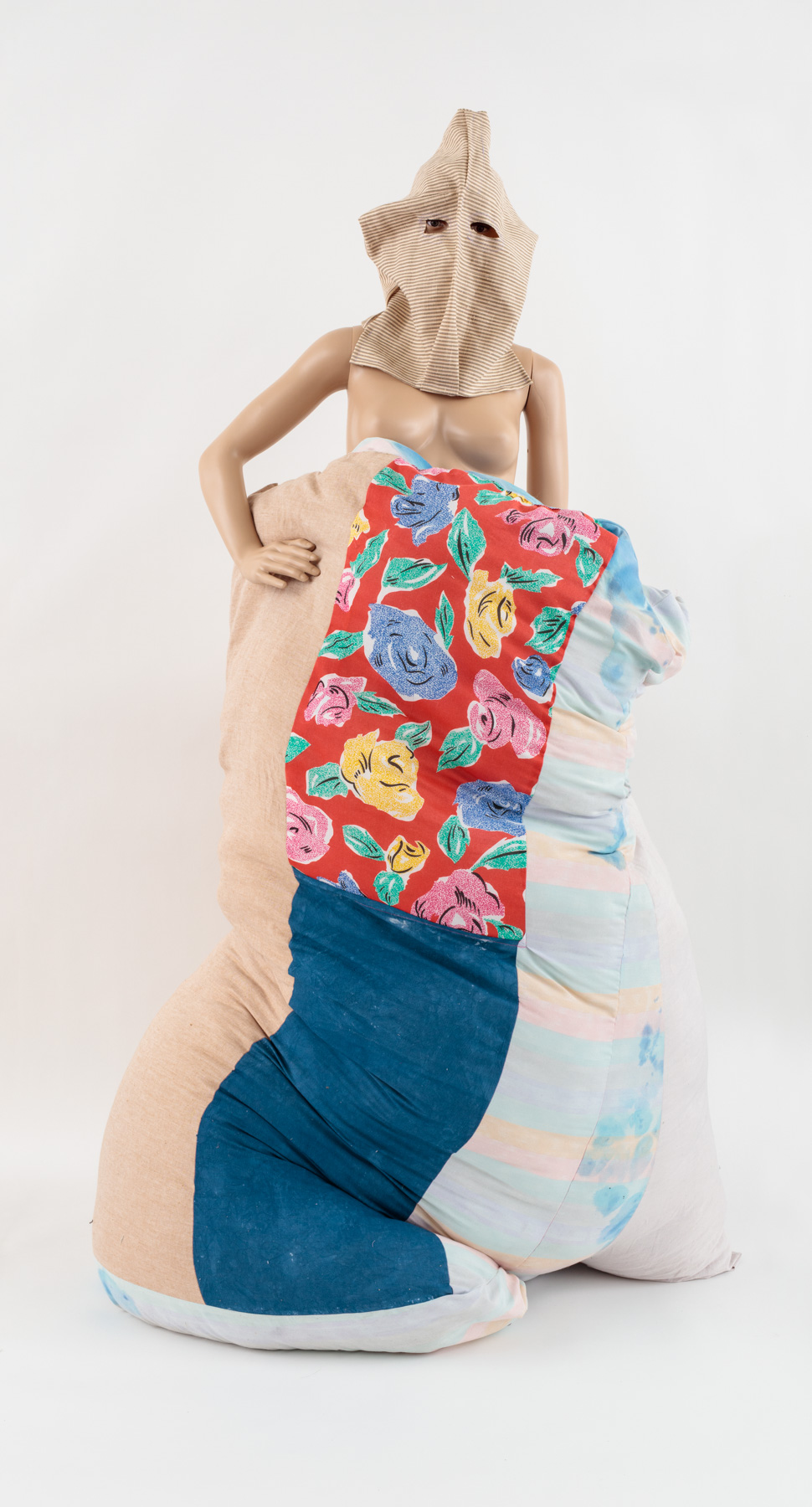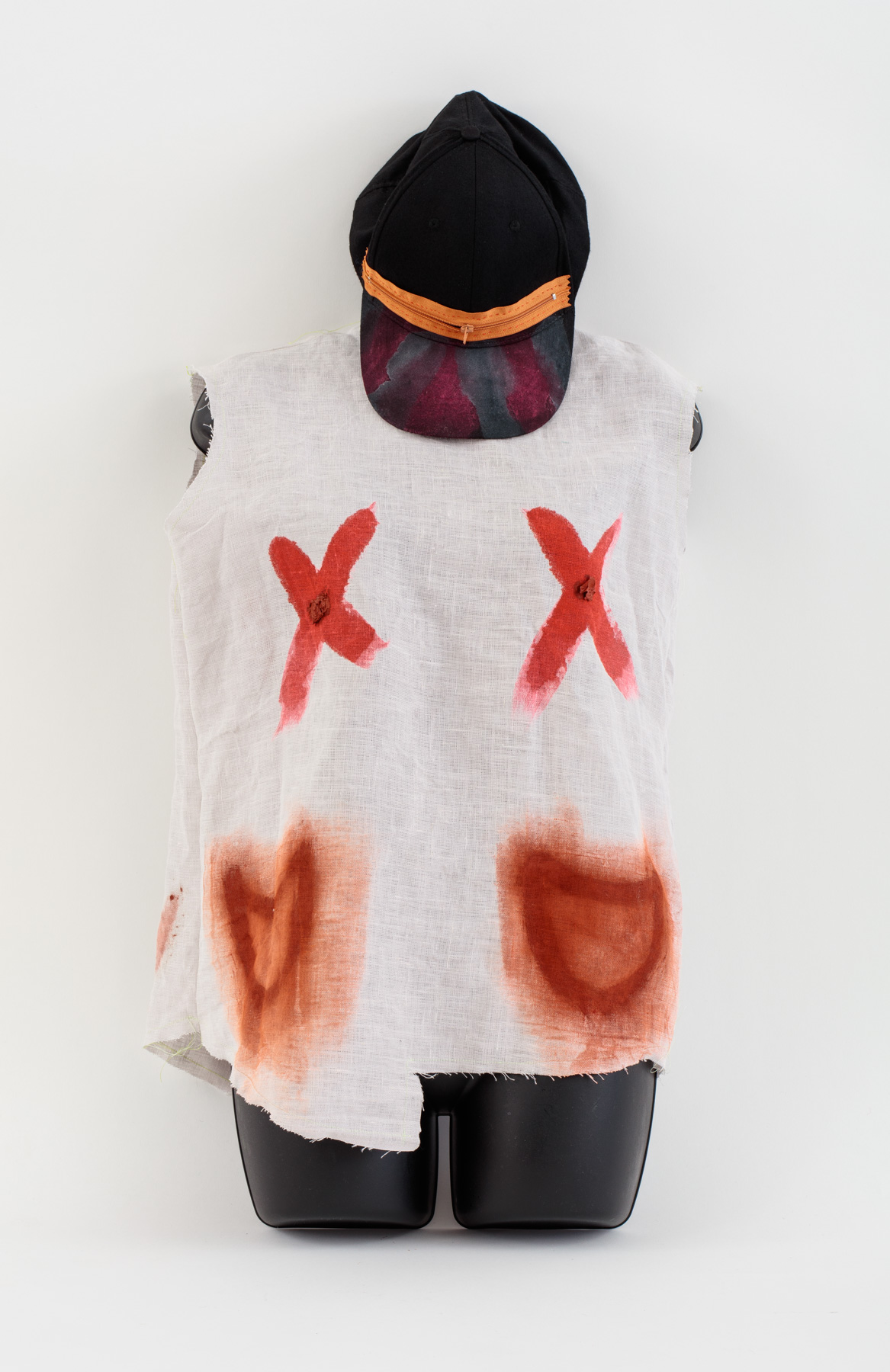 Madonna Lactans IV, 2015, Digital print on linen, 52 x 70 inches.
Madonna Lactans I
, 2015, Gouache on original darkroom print by Irving Frederick (c. 1960-1980) mounted on matboard, 11 x 14 inches.
Madonna Lactans II
, 2015, Gouache on original darkroom print by Irving Frederick (c. 1960-1980) mounted on matboard, 11 x 14 inches.
Madonna Lactans III
, 2015, Digital print on cotton, 57 x 78 inches.
"/>



My work re-purposes the personal artifacts of family that I had dismissed as too normal, often classifying them as the boring side of my heritage. With the discovery of a pile of amateur prints of nude models developed by my paternal grandfather in his darkroom in Long Island, I began delving into glamour photography images from the fifties to the seventies, a historically male tradition that deals with the eroticized female form. In opposition to this was the trope of the traditional suburban home and housewife, represented by my grandmother. Although I started with these portraits of women divorced from their context and identity, I have begun to turn inward and look more deeply at my grandparents' life than I ever intended. I am continuing to realize that I had been repulsed by their conformity to traditional gendered roles and their pursuance of the typical mid-twentieth century American dream.

The series born of this conundrum is Madonna Lactans. Streams of lactation cartoonishly alter the staid nude portraits taken by my grandfather. These lines of humanity are applied in gouache in a purposefully naïve manner, often borrowing from the language of comics. The final pieces are converted into digital prints on fabric, and flanked by paintings and photographs of my grandmother, her words, her recipes, and their home. Drawing from imagery of the lactating woman across multiple cultures and eras, these interventions walk the line between delicate and crass. The final images are greater than life-size, empowering these women with a monumental presence. Depicting breast milk inserts a new narrative of power and ammunition. As humorous social critique these works remind us that the breast is never purely sexual. Our view of the female body is enlarged to encompass the complexity of its biological function. This non-apologetic approach to the female experience begins to transform a male-fantasy glamour space into a divine domestic space reinforced by fast and fluid markings.

My work often investigates the forms and definitions of feminism. This series in particular addresses objecthood: the photograph as object, the woman as object, the breast as object. Small narratives of intimate spaces play out in the texture of the fabric, referencing the Virgin Mary's veil, the tablecloth, the curtain, the bedsheet. This, in turn, calls to mind the unpaid labor of women in the home and the conventional roles women have been prescribed. This drudgery and objectification is transformed into the language of devotion and sanctity. This is a call to worship the breast—raise up the woman in her wholeness, her entirety. There is not just one self or one narrative.



A second zine about Season 20 of The Bachelor. This one also has a lot of Ben Higgins, tears, and indecision. How will he choose who to spend the rest of his life with??

2016, self-published, 16 pages, 2 color riso, edition of 100, 4.5 x 6.5 in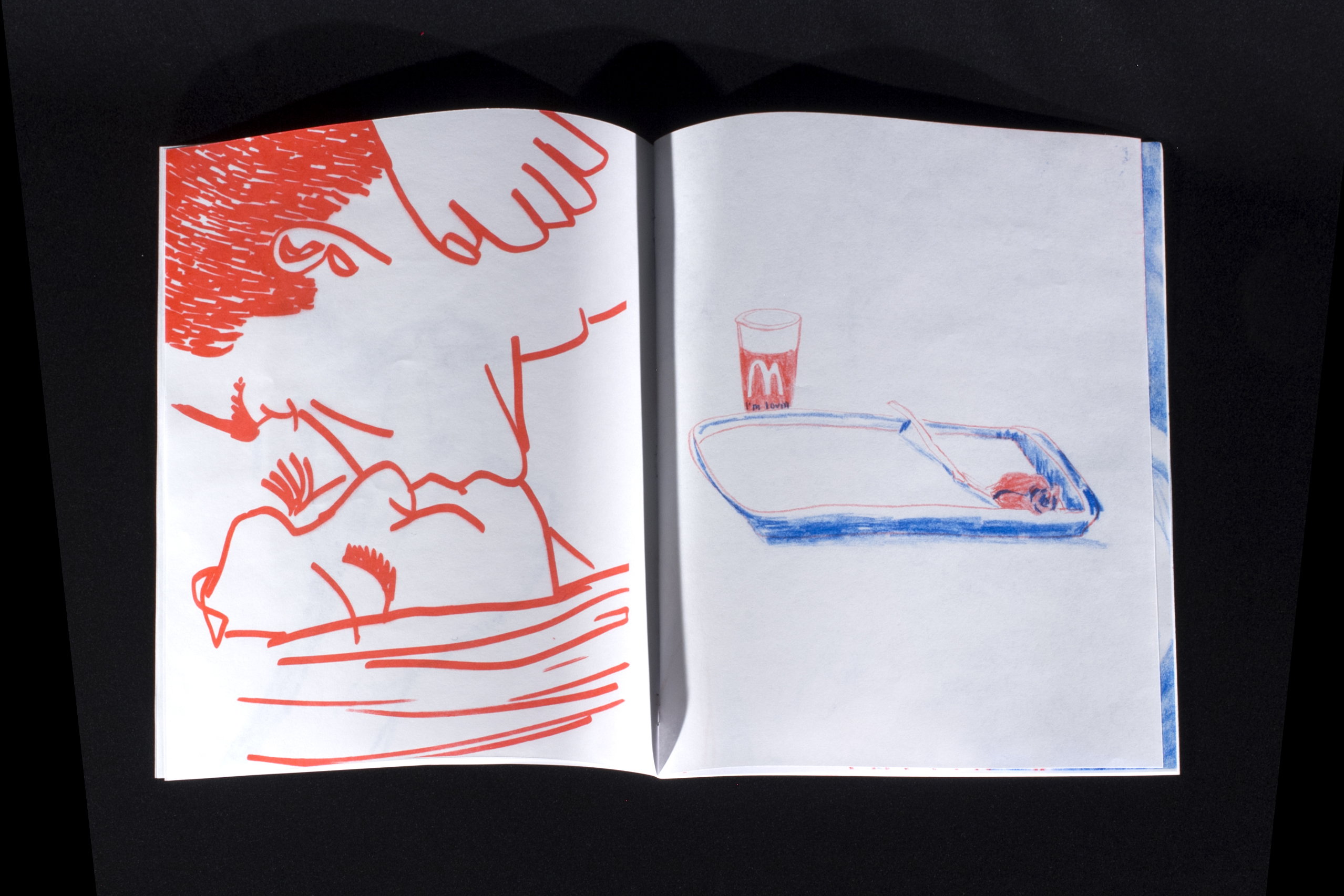 My first zine about Season 20 of The Bachelor featuring Ben Higgins, swimming pigs, and a whole lot of tears.

2016, self-published, 18 pages, 2 color riso, edition of 20, 8 x 10 in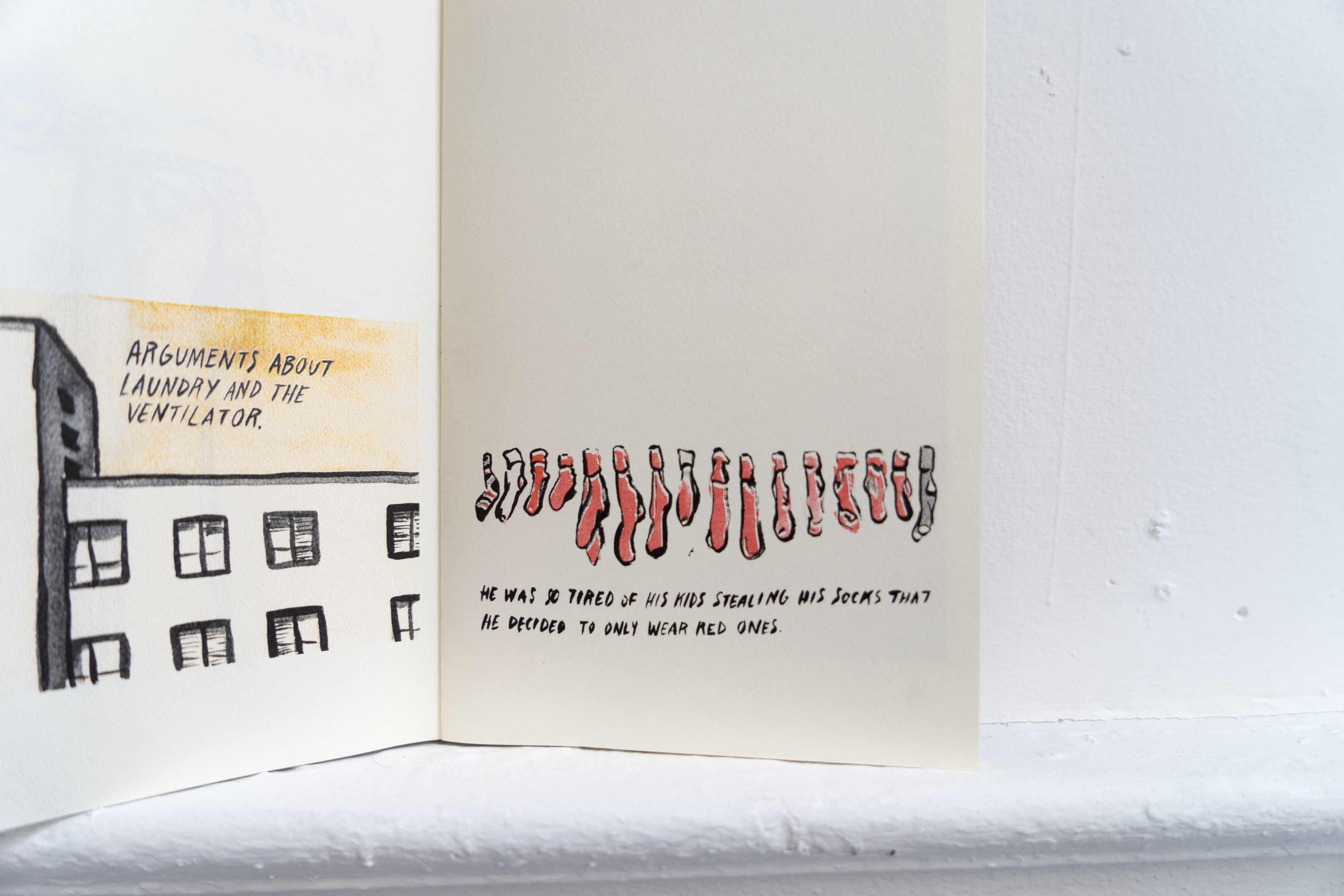 This project, I Demand a Memorial, consists of 4 connected books. Entitled Book One: Recognizing "It is Time", Book Two: Saving the Phenomena, Book Three: The Internal Re-ordering, and Book Four: A Collection of Anachronisms and Legends, these tell a tale of grieving, family dissolution, and archiving memory.

2015, self-published, 4 books, 2 color riso, edition of 50, 6 x 4 in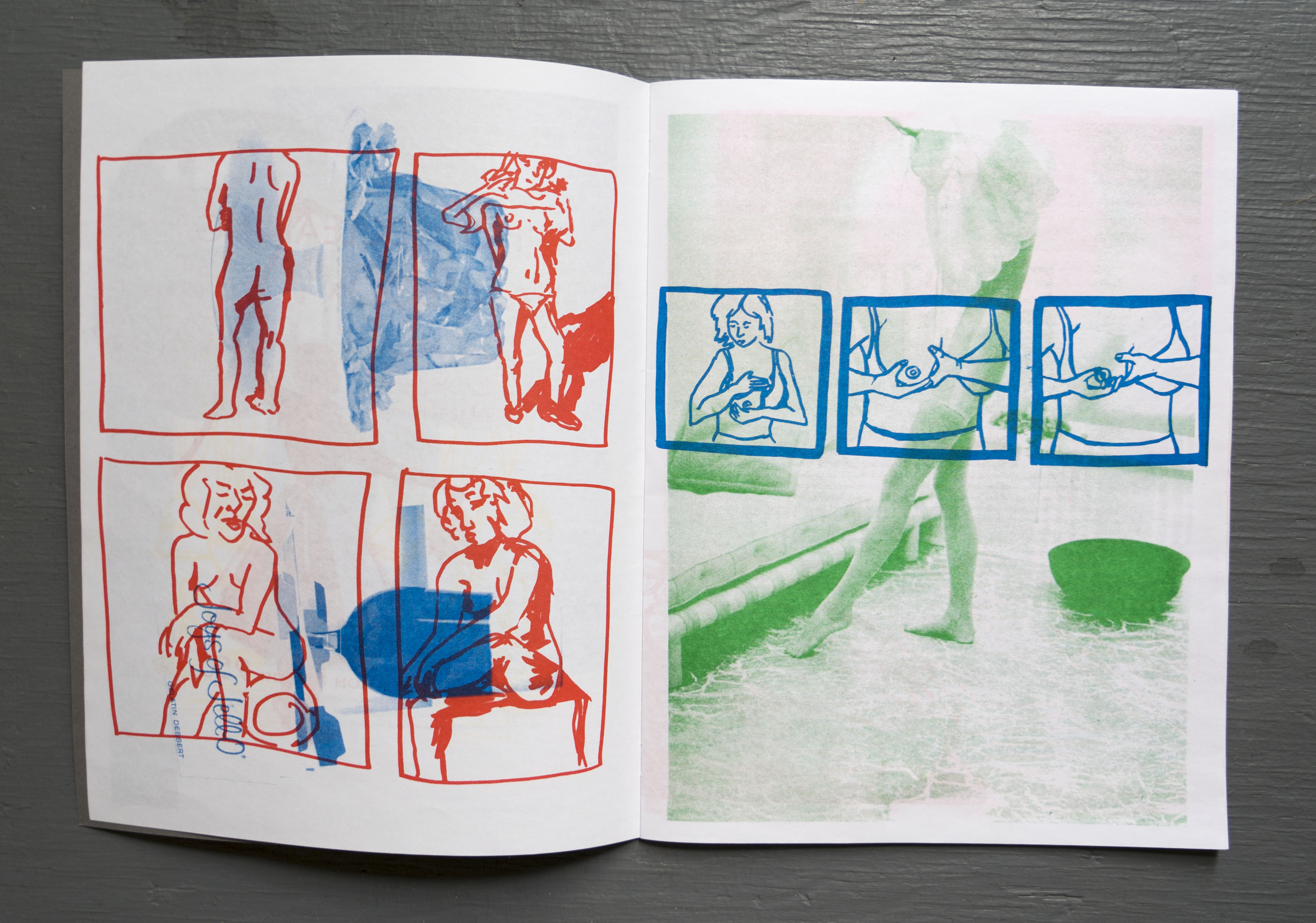 This zine entitled Lactivism is an amalgamation of lactation drawings, vintage glamour magazine pages, and cooking pamphlets.

2015, self-published, 24 pages, 6 color riso, edition of 20, 8 x 10 in